Norsk Traditional Costumes
Through SomeAre Solstice, Janina shares photos, philosophy, music, and poetry from the Northern lands, representing renewal of the human spirit through connection with nature and the "Peace".

"It is through our arts and recreation, we maintain our regional identities, our histories,...and share a little of ourselves with others..."

Janina is passionate to be currently working on performing or publishing of:

* Vaer Deg Selv (Be Yourself) - a 20 Minute Performance of Music, slide show, and storytelling of the viking mythologies and the contemporary journey of the soul - soon to be published. Stay tuned!

* Linnaea's Force - A Collection of Nordic Canadian Heritage Poetry and Relationship with the Land
*Poetry and Prose of the Peace, and Sagas of the Past - SomeAre Solstice (Myspace)

*Environmental Consulting - Offering workshops to teachers, parents, children about connecting with nature, working with environmental sustainability, and environmental action

*Poetry Writing Workshops - offered to any who are interested - schools, Professional Development, team building...

**Global connections and sharing vision with members of the Kubasonics, Tyr, and Les Bucherons, are exciting opportunities for Janina... awesome chances to share in the preservation and progress of aspects of our ancestral roots and our Canadian Heritage into contemporary times and beyond... a privilege and an honor... leaving the legacy...
Recent Performances of SomeAre Solstice:
Vaer Deg Selv (Be Yourself) was recently performed at the Sons of Norway 45th Anniversary where the Lodge hosted a visit from International President, Ted Fosberg. A collection of Norwegian traditional costumes were worn by many of the guests, a host of wonderful Norwegian food was offered, and a good time was had by all in attendance. Janina played the cedar flute, and narrated the saga of Vaer Deg Selv throughout her slide show, whilst guitarist, Ian Smith, accompanied.

Janina continues to steadily refine her photos and text for recording, publishing, and performance of future stages of Vaer Deg Selv and her other saga style poems.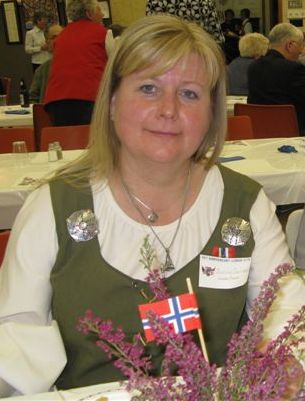 Janina
Performing Vaer Deg Selv for Sons of Norway 45th Anniversary