Vision:
"Be the Change we wish to see in the World" - Gandhi
Experience and Projects
Janina is a World Music teacher in northern Alberta. Her love of learning is shared with her students in the elementary and junior high grades through a variety of cross-curricular activities and project-based learning. It is her mission to help guide each student towards understanding that "Each of us can make a difference".
Canoing at Ole's Lake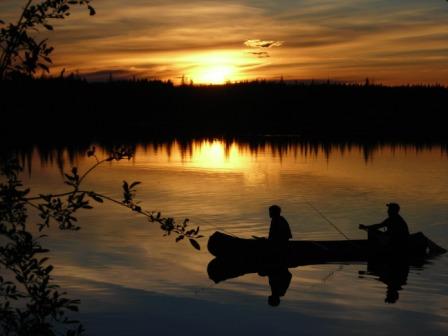 Helping build students for the 21st Century, Janina involves her classes in a variety of literacy, technology, science, arts, and humanitarian projects to assist learning in the global classroom:
*All Aboard the Canadian Connection (Telus Learning Connection)
*From the Heart - A Celebration of Community (ATA's DEHR -Diversity, Equity, Human Rights and the Telus Learning Connection)
*Project DEPTH - Diabetes Education Prevention Treatment and Help
Janina also offers workshops and presentations to teachers and parent groups on a variety of topics and has presented for the Mighty Peace Teachers' Convention, the ATA Science Council, and Global, Environmental, and Outdoor Education Council.
Awards:
2006 - Janina is the recipient of the Centennial Medal of Honor, an award given to some 8000 Albertans for service to the people and communities of Alberta.
2007 - Janina was also the recipient (in conjunction with Bonanza School) of the ATA (Alberta Teachers' Association) School-Community Public Relations Award of Merit for work with Project DEPTH.
Publications:
Trees - A poem in GEOEC magazine
Patterns - Nature Magazine - The Osprey (NFLD)
Seabird - Newfoundland's Osprey Nature Magazine
"Wabamun" - A Naturalist's Guide to Alberta
Educational Articles & Brochures -
"A First Class Journey with DEPTH" (Diabetes Education Prevention Treatment & Help) - Setting Up Transformational Leadership Projects
"A First Class Journey with HEART" - Helping Educators Achieve Real Transformation through Project Based Learning
Utopia and Beyond: Globalization in the Small School
Environmental Sustainability for Students
Gobbled by the Megabytes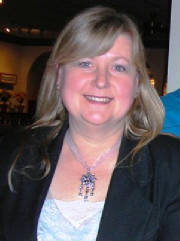 Web Building Experience
SomeAre Solstice Flutes & Woodland Wellness
Nana Flute Circle site
Janina Carlstad's "SomeAre Solstice"
Landsgard Production
Bonanza School
Menno Simons School
Bear Canyon School (no longer in existence)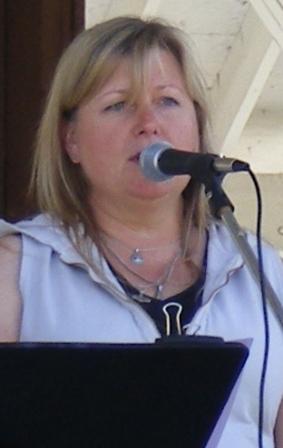 Janina Singing at Canada Day Celebrations - Photo by B. Studley
Current Projects: (click on underlined or colored titles to enter links)
Janina and John Fletcher sing together as SomeAre Solstice Flutes, an acoustic styling duo favoring Native American Flutes and strings.
Performing under the name,"SomeAre Solstice Flutes", Janina brings the heart of the Peace Country alive through her poetry, music, and imagery. Janina is also passionate about preserving traditions and cultures of long ago... hoping that through remembering where we have come from, we may better know where we are going... SomeAre Solstice may be found on the
NANA Flute Circle Site
,
YouTube
and Facebook.